Available wherever CDs and DVDs are sold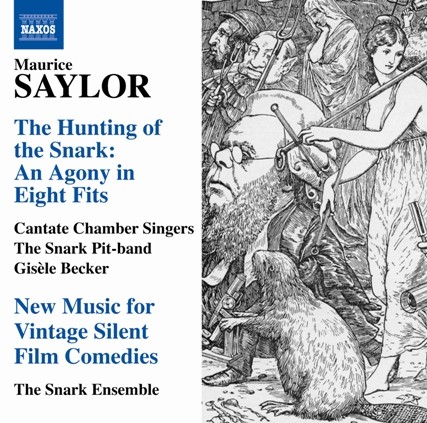 Available from the Naxos Music Label
Maurice Saylor:
The Hunting of the Snark: An Agony in Eight Fits
As performed by the Cantate Chamber Singers
plus
New Music for Vintage Silent Film Comedies
with the Snark Ensemble
What the critics are saying about the Hunting of the Snark:
Maurice Saylor, one of the more imaginative composers in town … is nothing if not inventive … this colorful and wonderfully uninhibited work … was irresistible from start to finish -- clever, deeply engaging, and performed with enthusiasm and evident delight by everyone involved. — Stephen Brookes, Washington Post
Saylor … writes for a "pit-band" made up only of "instruments reviled by society at large and rejected by people of good taste and common sense."
The result is a truly amazing array of colors; an ensemble that is eccentric, sometime hilariously perverse, and deliciously supportive of Carroll's witty text. -- Ronald E. Grames, Fanfare Magazine
The opening 'Snark' theme is a corker whose wavering between major and minor comes across as a perfectly natural theme which you will find yourself whistling for days if you are not careful. -- Paul Corfield Godfrey, MusicWeb International
Setting [the Hunting of the Snark] to music is a risky enterprise. The American composer, Maurice Saylor (1957) saves it with musical notes, above all because he creates a new sound world that does justice to the verbal imagination of Carroll … Saylor seeks to make intelligible the unintelligible lyrics. — Juan Carlos Moreno, Ritmo
Despite its light and amusing aura, the eight-part The Hunting of the Snark, Maurice Saylor's musical version … is an important work. Saylor's music is intellectually engaging despite its thoroughly individual language, and his "Snarkestra" plays with gusto, letting all the edgy sounds of its unexpected combination of instruments collide in the hunt for the unknown. The music is at least as much fun to hear as Carroll's wonderful poem. — Maria Nockin, Fanfare Magazine
The Hunting for the Snark … is an ambitious work … and quite worthy of attention. With all the instruments, more or less, being unexpected ones, Saylor's music has the air of a soundtrack to a postmodern cartoon — Laurent Bury, ForumOpera, le magazine de l'opéra et du monde lyrique
What others are saying
The people at Naxos Records saw fit to include the Snark in the three paragraph introduction to their catalog Choral Secular Music through the ages:

"Staggering emotional range extends from the anguish and passion in Gesualdo's
and Monteverdi's Madrigals, through the stern intensity of Shostakovich's
Execution of Stepan Razin to the riot of color and wit which is Maurice Saylor's
The Hunting of the Snark. Grand narratives such as Handel's Hercules and
Martinů's Epic of Gilgamesh can be found alongside tender miniatures by
Schubert and Webern."
***

There are some odd things going on in DC and it's not just the politics. `The Hunting of the Shark' by Maurice Saylor … is probably one of the quirkiest CDs I've ever come across -all in a good way.
… It's all really well done --very fresh, surprising and always entertaining. Saylor has a really gifted melodic sense, always pushing the music along at 100 miles an hour, adding clever transitions and orchestral effects throughout. It's weirdly never pastiche though that's exactly what it is!!!

The music [for the three silent movie soundtracks] is not really 20's music again, as there are many things about it that are post-silent movies. But that is what makes it interesting. It is all very evocative in its depiction of what is ever on the screen with lots of contrasting sections and again a very strong melodic sense. The playing though was again superb.— Mike Maguire, Amazon.com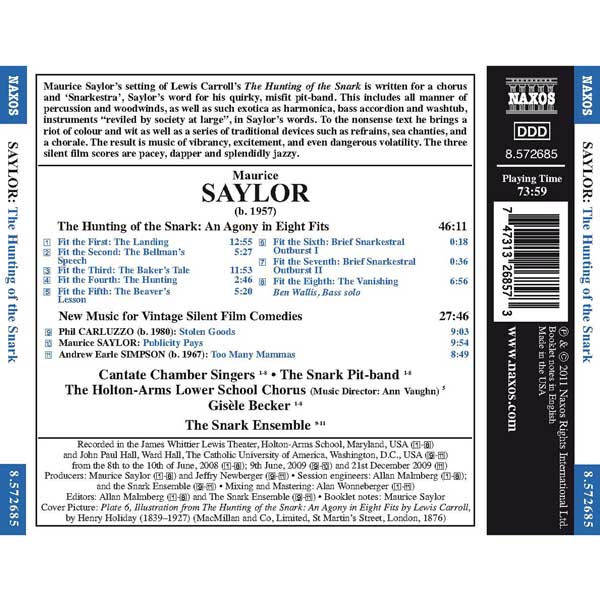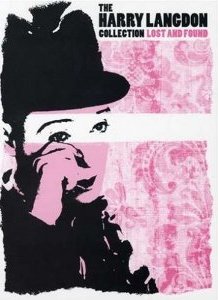 The Harry Langdon Collection: Lost and found

4 DVD set
Discovered in 1923 by slapstick pioneer Mack Sennett, Harry Langdon quickly rose to the ranks of the other silent comedians, rivaling Chaplin, Lloyd, and Keaton in popularity. Langdon s comic persona of the wide-eyed innocent bewildered by the world around him was developed in such classic shorts as Picking Peaches and His New Mamma, which have been restored and included in this four-disc set.
The music for nearly all the silent film scores in this is provided by the Snark Ensemble.
Now comes this wondrous collection from Facets. No silent movie aficionado should miss it. This truly lovable collection restores the little man to his rightful weirdo place. BOX SET PICK OF THE WEEK — Mike Wilmington, Isthmus, The Daily Page
I really can't say enough good things about this wonderful release. It is quite a value, too. — DVD Maniacs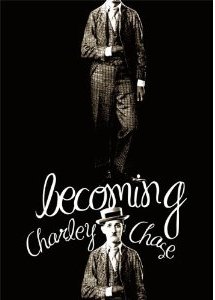 4 DVD set
Name a comedian in the first part of the 20th century Charley Chase worked with them, either on or off screen. He was a brilliant comedy writer, film director, and a major movie star. Almost single-handedly, he transformed the world of screen comedy from chaotic slapstick violence into a newly sophisticated comedy of manners, and laid the groundwork for the modern sitcom. He was the world s biggest skinny man and this is where his legend begins.
This deluxe 4 disc collection provides a comprehensive look at Charley Chase s early years, from his days as a budding talent at Mack Sennett s Keystone Studios to becoming one of Hollywood s most in-demand comedy directors to his breakthrough as one of the top box office draws of the 1920s. Over 40 rare comedy shorts form 1915-1925 and surviving extracts of lost films digitally restored from materials provided by private collectors and major institutions from around the world. Featuring new music by the Snark Ensemble, Ben Model, the Redwine Jazz Band, and the West End Jazz.
Bonus Features: Scene Selection, Audio commentaries by noted film historians, THE PARROTT CHASE 45 minute restrospective on the life and career of Charley Chase, THE SOUNDS OF SILENCE Behind the scenes with the Snark Ensemble on the making of the music for this set, Archival interview with Chase's daughter June. Product Specs: 4-DVD9s; Dolby Digital 2.0; 460 minutes; B&W; 1.33:1 Aspect Ratio; MPAA - NR; Year - 1915-1925
The Chase-McCarey films are little marvels — ten minute movies that achieve a richness of character and comic invention that few contemporary features can equal. —Dave Kehr, The New York Times
A fascinating four-disc DVD [set] that chronicles his career from his earliest days with Mack Sennett before World War I through his silent years at Roach. — Susan King, Los Angeles Time